---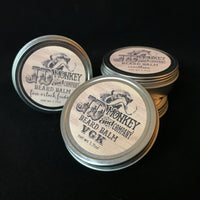 JD Monkey & Company Beard Balm tames those stray whiskers and conditions your beard and face at the same time! The oils and butters we use help to alleviate dry, itchy skin, and make your beard look healthier, too. Every tin is hand-made with sweet almond oil, natural beeswax, mango butter, shea butter, jojoba oil, neem oil, vitamin E, and one of our signature fragrances.
Fragrances:
Carolina is a sweet, sultry fragrance with notes of coriander, spice, and tonka bean. It is a complex scent with more subtle notes of vanilla, tobacco leaf, and amber rounding out the profile.
Coastline is a slightly floral, clean coastal breeze. Reminiscent of clean laundry, this is a classic scent that is sure to please.
Cyprus is our tribute to the original Chypre de Coty from 1917. It is an incredible, complex, enchanting fragrance with notes of oakmoss, amber, citrus, musk, and sandalwood. The rich woody aroma has a universal timeless appeal. While many fragrances can be distinctly characterized as masculine or feminine, this fragrance crosses those boundaries with ease.
Dragon's Blood is our take on a classic incense fragrance. The notes of orange, spices, patchouli, cedar and rose. Sweet and spicy, this combination is complex yet inviting.
Five o'clock Friday fragrance has strong notes of whiskey, oak, tobacco, clove, and vanilla. Perfect for any time, not just for Friday.
Nadivan is a combination of the Hindi words "nadi" (river) and "van" (forest). This woody, earthy fragrance has a strong component of vetiver, mixed with notes of citrus and dark musk.
Nautilus fragrance will bring out your inner sea captain. Salty, yet sweet, with notes of amber, plum, and vanilla, it is seductive and mysterious.
Silverlake has a deep, dark musk base with some floral and citrus. You will also notice some patchouli and amber rounding out the fragrance.
Timberline is a mix of blue spruce, mint, ginger, and spice. This scent subtly calls out, "winter is coming" to everyone within range.
VGK is a novel mix of spicy chili pepper, orange, and mint. This is our tribute to the phenomenal inaugural season of the Vegas Golden Knights. Fiery, icy, and lively! Go Knights Go!
Raw is completely unscented, only natural butters, oils and wax in this one! If you want the excellent moisturizing qualities of our beard balm but don't want the fragrance, then this one is for you!
Instructions: Scrape a small amount of balm onto the back of your thumbnail. Melt the balm with your fingertips. Massage into beard. Repeat until desired amount of balm is distributed evenly throughout your beard. You may use a beard brush to help with spreading the product. Enjoy!
Ingredients: Mango Butter, Beeswax, Sweet Almond Oil, Jojoba Oil, Caprylic/Capric/Myristic/Stearic Triglyceride Blend, Neem Oil, Safflower Oil, Sunflower Oil, Fragrance, Vitamin E
Size:  1.6 oz