---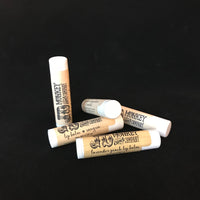 JD Monkey & Company's hand-crafted lip balms come in several fun and novel flavors. Try one or try them all! Even though a lot of our flavors are inspired by alcoholic beverages, no alcohol is used in our lip balm. 
Club Soda: After many requests, we created a variety without added flavoring. This one is just our base ingredients of Coconut Oil, Cocoa Butter, and Beeswax. Perfect for those who are sensitive to flavoring and just need something to keep their lips moist.
Cuba Libre: A classic cocktail! With flavors of Rum, Cola, and Lime this is sure to please!
Irish Coffee: Flavors of coffee, cream, and Irish liqueur.
Minty Mojito: Lime and mint mixed together just like your favorite summer cocktail!
Old Fashioned: For the sophisticated gentleman or lady, bourbon, orange and cherry round out this flavor.
Piña Colada: Nothing says"tropical" like this great classic flavor combining pineapple and coconut.
Sangria: For those who love the taste of red wine, especially when fresh fruit flavors are added, this lip balm is sure to please.
White Russian: Flavors of coffee liqueur, cream, and vanilla combine to create a rich drink-inspired balm.
Fruitcake: Our take on a Christmas classic! This flavor combines several fruit flavors with hints of whiskey and brandy.
Peanut Butter Cup: A timeless combination of peanut butter and chocolate flavors.
Pumpkin Pie: Flavors of pumpkin, spice, vanilla, and cream are sure to delight!
Root Beer Float: A combination of root beer and vanilla ice cream flavors will awaken your inner child again!
S'mores: This classic flavor combination is sure to conjure memories of summer campfires and good times! A blend of chocolate, marshmallow, and graham cracker round out this balm.
Sugar Bacon: Combining smoky bacon and burnt sugar flavors, this is definitely one to try!
420: An "earthy" flavor, this is a slightly different formulation that includes hempseed oil in addition to the other ingredients.
Ingredients: Coconut Oil, Cocoa Butter, Beeswax, Sunflower Oil, Natural Flavor.